Lady Mole Catcher is also qualified to deal with snakes, having received and completed specialist training in Australia. She has the knowledge and skills to deal with UK native snakes as well as pets which may have escaped or been released in a public area.
Which snakes are native to the UK?
Although it's rare to meet a snake here in the UK, we do have our own native species that quietly live alongside us. The main types of snake you may encounter are Adder, Smooth Snake and Grass Snake. Although the latter two are harmless, the Adder can bite so it's best not to touch or approach them. All of these snakes are also protected by the Wildlife and Countryside Act 1981 which means that it's illegal to kill, injure or sell them.
How do you know if you have snakes on your property?
UK species of snake are shy and tend to steer clear of people. If they do pop up in your garden or in a public space, they are most active between July and September when the weather is warm. You may notice old skins, which the snakes shed upon leaving their hibernation period. Snakes are most likely to be found in secluded wildlife areas, sandy surfaces or heathland, such as nature reserves or railway embankments. In a garden, it's possible to find snakes under garden features, in sunny areas or in compost heaps.
There are a few issues to consider if you discover a snake on your property or in a public area:
Grass snakes and slow-worms are harmless
Adders are the only venomous snake in Britain and are rarely found in gardens
Bites from adders are very rare but tend to occur when a snake is picked up – do not approach or touch the snake
Sometimes exotic (non-native) snakes are found in urban or suburban areas. These are usually escaped/abandoned pets or have been accidentally imported
There are a few snake deterrents you can try in your own garden:
Regularly mow your lawn
Clear shrubs which are providing cover
Remove rockeries & wood piles
Keep compost in a sealed container
Fill in holes under sheds etc.
Fit fences or walls around a pond (snakes will enter a garden to eat amphibians)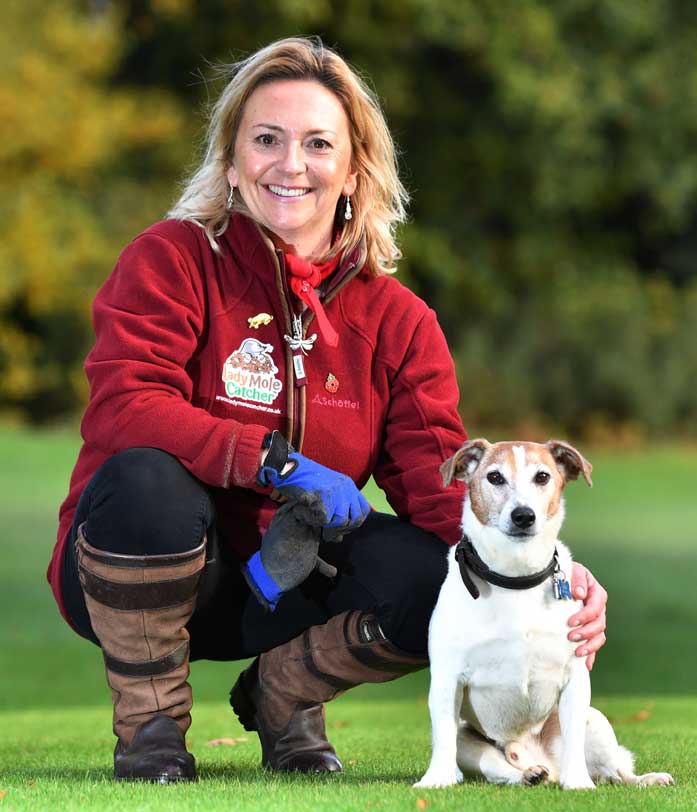 Louise Chapman BA (Hons) PGCE
Norfolk's very own Lady Mole Catcher®
Who I work with
Householders in their gardens
Farmers and Land Agents
Outdoor Leisure Facilities
Businesses
Restaurants and Pubs
Schools/Colleges
Local Authorities
If Snakes are causing problems for you, get in touch with Louise to arrange for a site survey or consultation. Call 01603 25 99 45 or 07876 14 11 53 or email louise@ladymolecatcher.co.uk
After a frustrating three months of mole activity in the garden, which had unhappily thwarted others, I contacted Louise. The very next morning the mole catcher arrived to set the traps. When he checked them the following afternoon, two moles had been caught! I am very impressed by the speedy, professional and, above all, most effective, service provided. Brilliant!
We have used Louise on three occasions for cluster flies and a flea issue at our holiday home. Every time she has provided an excellent service and dealt with the problem very quickly for us.
Having found moths in our lounge/dining room carpet I got in touch with Louise.  She came, looked, explained about the damage moths do to carpets and treated all our carpets, both upstairs and down.  She was efficient, very professional and returned twice more to check she had got rid of them. She is very friendly and also very interesting to talk to.  We would not hesitate to recommend her. Thank you Louise!
One of the joys in my life is the many varieties of birds that come into the garden and use the  bird feeders. Recently Grey Squirrels had become a serious nuisance. They are spiteful not only to each other but to the birds, who became reluctant to use the feeders. I was also concerned that once the birds started laying their eggs they would take those as well.  I contacted Louise, the Lady Mole Catcher and asked for her help. Louise assured me that she would trap the Squirrels humanely, which she did very efficiently. Seven Squirrels later I now have the birds feeding again. I thoroughly recommend Louise she is professional, friendly and very efficient at what she does.
Louise did an excellent job. She responded quickly to our request and her knowledge and professional approach were exactly what we were looking for. She was able to catch the squirrels that had caused so much damage and do so fitting in around our other commitments. I would certainly recommend.
Louise was dealing with a mole & rat problem we had which she dealt with very efficiently. On her last visit we discovered a wasp nest & Louise did a great job of getting rid of them too! Cannot recommend her too highly!
Having worked with Louise (Lady Molecatcher) during recent weeks regarding a problem we had with both moles & rats, we then found a wasp nest in our shed. There was nobody else to call but Lady Molecatcher…the wasp nest was dealt with professionalism and knowledge, it was all over in just a few moments. Sorted! We then discovered another two wasp nests in the roof of the house and again Lady Molecatcher arrived the same day we called her and again the situation was dealt with swiftly. We would without any hesitation recommend Louise to deal with any of the above issues you may have. It was a pleasure to come across somebody who can deal with these issues in a professional manner but always with a smile on her face.
I'd like to thank Louise for solving a Bed Bug problem swiftly. My daughter had arrived home after a school trip and brought with her some unwelcome guests - Bed Bugs! My daughter was bitten and the Doctor confirmed Bed Bugs, which he said probably hitched a ride in my daughter's luggage. Louise came the very day I 'phoned her and took control of the situation. Thank you Louise, what a relief!!
Louise sorted our first mole problem in just two hours, the second by the next morning. Her professionalism, knowledge and experience of where to position the traps was so accurate, just amazing! We have felt incredibly comfortable working with Louise who is a very friendly and sociable young lady. We would have absolutely no hesitation in recommending Louise.
Louise was very prompt and efficient. We had a serious rabbit problem which she has brought under control. She explained what was needed, carried out the work and returned as promised to complete what was started. We would definitely recommend Louise to anyone.
Rabbits, not moles, were my problem. Lots of them and notice the past tense. Over the years I had tried my methods and different individuals to cure my rabbit problem without luck. My garden over the past two years was devoured by rabbits. Along came Louise and within three weeks the rabbits were gone. Her approach was multifaceted. She arrived when she said she would, kept me informed of progress while I was away by video and persisted until I could confirm there were no more sightings of rabbits. I would recommend her services.
Very professional and quick results. If you have moles in your lawn, call Louise. I will always recommend you! Thank you.