Lady Mole Catcher is qualified to deal with rodents and has a certified training qualification from The BASIS Registration Board in Principles of Rodent Control. She is a recognised member of the BASIS Prompt Register (a register of managers and technicians providing professional pest control services and advice).
Rodents (rats and mice) are mainly active at night and can easily gain access to your property, especially garages. Once they gain access, rodents will gnaw their way through wires, insulation, pipes, woodwork and more.
How can you protect your vehicles from rodent damage?
Your pride and joy sits in the garage, ready for you to take it out for a spin. You've spent time and money on keeping it clean and in good repair. You keep it in in the garage 24/7 to make sure that it's safe and secure but are you aware of the damage that can be done? Damage to vehicles by rodents can be highly destructive. Rats and mice can chew through wires, hoses, plastic panels and other car parts to make nesting materials, causing you a world of stress and expense!
What's the solution?
Lady Mole Catcher is able to supply and fit a new long term pest control solution especially for vehicle protection. The RatMat is an innovative, humane and cost effective solution to protect your vehicle from rodents. Using the same principle as an electric fence, its safe to use because of its low energy pulse which is effective in repelling small animals.
RatMat tiles (measuring 310mm x 310mm each) can be laid indoors and outdoors on a hard surface and can be screwed down to prevent slippage. RatMat can be used to protect cars, motorcycles, machinery, dust bin lorries, combine harvesters and many other vehicles. It can also be used as a barrier on the entrance of garages.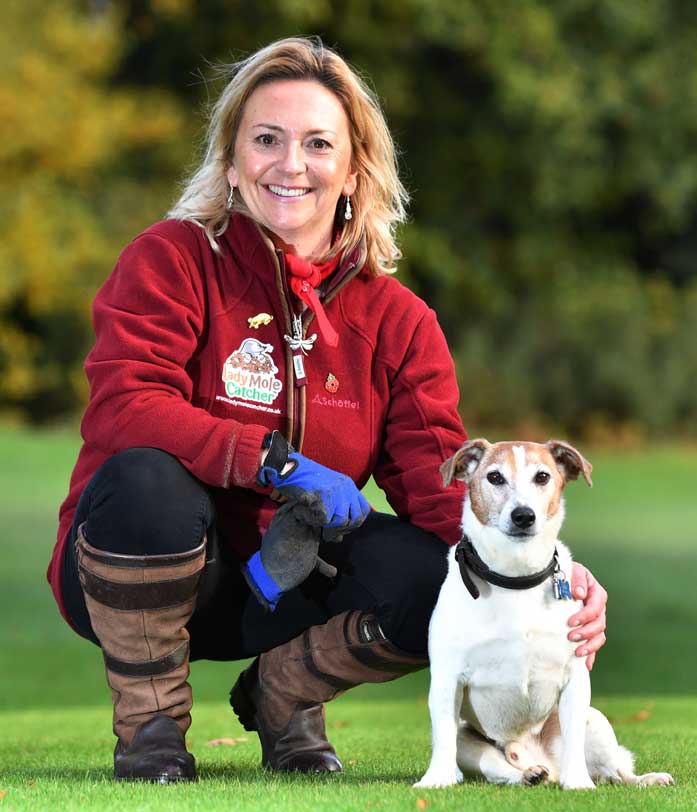 Louise Chapman BA (Hons) PGCE
Norfolk's very own Lady Mole Catcher®
Who I work with
Householders in their gardens
Farmers and Land Agents
Outdoor Leisure Facilities
Businesses
Restaurants and Pubs
Schools/Colleges
Local Authorities
If rats are causing problems in your property or your garden, get in touch with Louise to arrange for a site survey or consultation. Call 01603 25 99 45 or 07876 14 11 53 or email louise@ladymolecatcher.co.uk
Louise was dealing with a mole & rat problem we had which she dealt with very efficiently. On her last visit we discovered a wasp nest & Louise did a great job of getting rid of them too! Cannot recommend her too highly!
Having worked with Louise (Lady Molecatcher) during recent weeks regarding a problem we had with both moles & rats, we then found a wasp nest in our shed. There was nobody else to call but Lady Molecatcher…the wasp nest was dealt with professionalism and knowledge, it was all over in just a few moments. Sorted! We then discovered another two wasp nests in the roof of the house and again Lady Molecatcher arrived the same day we called her and again the situation was dealt with swiftly. We would without any hesitation recommend Louise to deal with any of the above issues you may have. It was a pleasure to come across somebody who can deal with these issues in a professional manner but always with a smile on her face.