Fun and Educational Talks
'Tales of the Lady Mole Catcher'
I can visit your group or organisation and share my experience and knowledge of moles which are immensely fascinating creatures. My talks are informative and interesting and are sprinkled with amusing vignettes from Norfolk's very own Lady Mole Catcher®.
'Deadliest Pests Down Under'
I was recently offered the amazing opportunity to travel to Australia to work with Australian pest controllers and appear in 'Deadliest Pests Down Under' currently featured on DAVE. If you would like to hear more about my adventure down under, Please get in touch.
Did you know?
Moles are fascinating, clever creatures. They have a magical quality about them because they rarely come above ground and therefore, you are very unlikely to ever see one. Here are some interesting facts about moles:
The latin name for the Common or European Mole is Talpa europaea. They are reclusive creatures and have a life span of about 3 years, although they can live up to 5.
Moles breed once a year in March. Female moles come into oestrus for only 24 hours, once a year. Around the beginning of March, male moles become active and come to the surface to try and sniff out a female mate, through the pheromones she releases. When Mr Mole finds Ms Mole, she will allow him to mate with her and then, virtually bats him about the head to get him out of her run. Does that sound familiar?
A mole litter will consist of an average of 4, although they can have up to 7 as the female has 7 teats. They produce their young only once a year. This highly differs from one year's breeding of rabbits which can be up to 80, rats up to 800, grey squirrels up to 7 and mice up to 2800 young ones!
We sometimes hear people say to, 'talk about making a mountain out of a molehill'. Moles are super diggers and can move 540 times their own body weight in earth each day. This makes them the ultimate digging machine, as they create a labyrinth of run systems under the ground. How amazing is that?
Moles are the only mammal that spend most of their lives under the ground. It is a myth that they are blind, they are not. Although their vision is very poor, because they spend their lives in the dark, they are sensitive to, and can detect light.
They do not have external ears, but 'hear' through sound travelling down their nose, into internal ears, which are situated above each shoulder. The group of cell bundles in their nose, which enables this is called the Eimer's organ. The mole has sensory hairs on the side of it's paws in order to feel, and hair on it's tail, which acts as a feeler gauge, for the top and sides of the tunnel. Rather like the pole mounted contact gauge, on the back of a bumper car.
Worms are the principle diet of the mole which makes them insectivores. They have to eat around 20 worms per day, which is equal to half their body weight, in order to survive. They will also eat larvae and grubs in the summer months. They are most active in the autumn and winter because they have to retain their own body weight and temperature.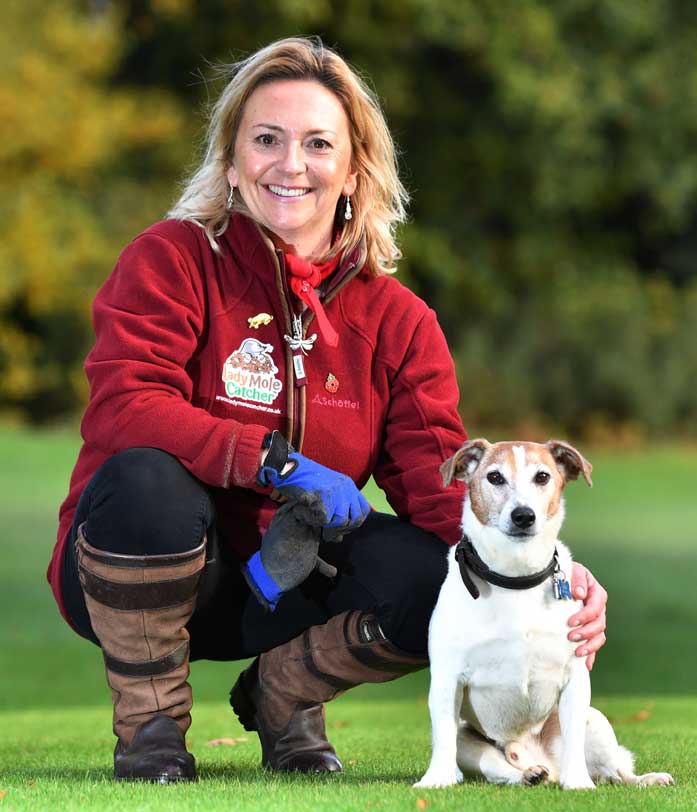 Louise Chapman BA (Hons) PGCE
Norfolk's very own Lady Mole Catcher®
Who I can educate, or talk to:
Schools/colleges
Networking groups
Groups/organisations
After dinner speaking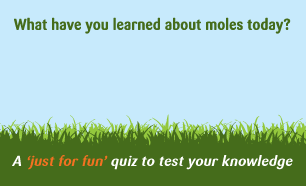 I hope you have read my page about moles and tried the fun quiz. You will have read some interesting, but basic facts about moles. However, there is much much more about the mole that is endlessly fascinating. If your group or organisation would like to know more from Norfolk's very own Lady Mole Catcher®, please call Louise on 01603 25 99 45 or 07876 14 11 53 or email louise@ladymolecatcher.co.uk
Just a short word of thanks for last week - you were fantastic and kept the guys entertained very well. We have some very good speakers but you are definitely up there with the best of them. Many thanks once again. I hope our paths cross again in the future.
So entertaining and informative (no one nodded off) you kept us totally entranced by the way in which you delivered your talk. The subject, the knowledge,the humour, and the participation, made the perfect mix for a splendid evening!
Thank you to Norfolk's very own Lady Mole Catcher for a fun-filled afternoon with our HUSH! Club.
Louise is small in stature but her knowledge is impressive and her talk was professionally produced and presented. Her style is first class and I can assure any other group that asked her to visit them they will receive an amusing, full, expert presentation.
Just a note to say how much our group enjoyed your recent talk. I have since received many favourable comments about it including 'best speaker this year!' Many thanks for a splendid evening.
Thank you so much for giving us a really wonderful evening. We certainly learnt a lot about moles and your presentation was great. Keep up the good work!
Thank you for your brilliant talk last night! You pitched it just right, the atmosphere was really good and our members clearly enjoyed your friendly yet honest and knowledgeable delivery.