I offer you competitive rates, without fuss.
I use traditional methods to catch moles
I can, and will deal with, moles in all situations and environments.
What NOT to do – Myths about moles explained
Many people believe that moles do not like vibrations and try to scare the moles away by putting windmills, or canes with bottles on them in the ground. As you can see from the first two photographs that I have taken in customer's gardens, these do not work.
The third picture shows an 'Electronic Mole Repellent'. I see many of these devices when I visit gardens. When people get a mole in their garden, they search the internet and find companies that sell these objects. They work on the same principle of vibrations in the ground. In actual fact they attract the worms and so attract the moles as you can see from this picture.
Some people become so exasperated with the mole digging up their garden, they try to stab or impale it with garden forks as pictured below.  Firstly I would not advise against this as it is illegal to kill a mole in this way and secondly, you will waste a huge amount of time and energy in using this method.
Amongst gardeners, another myth is that moles do not like the plant Euphorbia. As you can see from this garden, there is lots of Euphorbia and moles, which clearly means that it is not true.
I was called to a garden recently who had had their garden landscaped at great expense and had 'Mole Netting' installed beneath the grass. This product claims to prevent moles from coming into your garden, but as you can see from the pictures, this also does not work.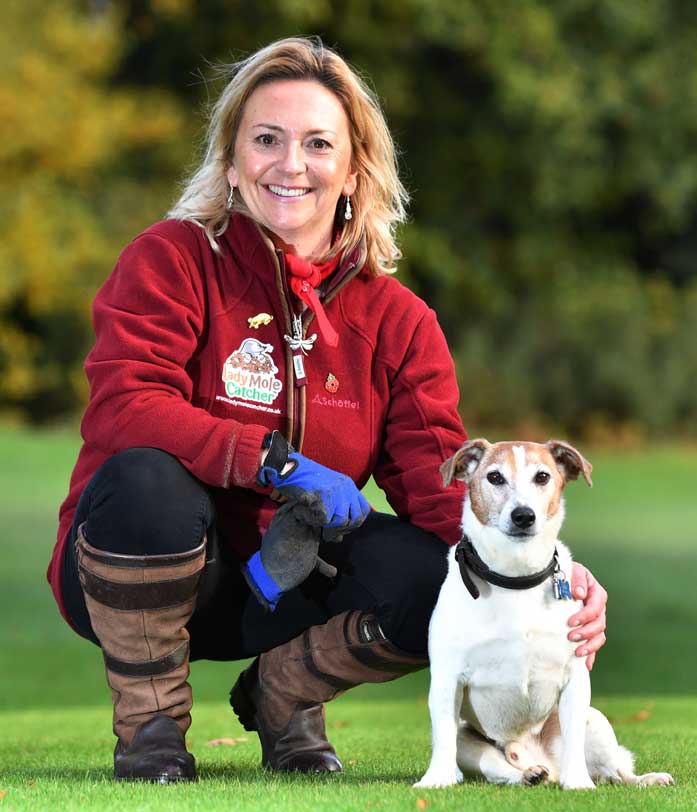 Louise Chapman BA (Hons) PGCE
Norfolk's very own Lady Mole Catcher®
Who I work with
Householders in their gardens
Farmers and Land Agents
Outdoor Leisure Facilities
Businesses
Restaurants and Pubs
Schools/Colleges
Local Authorities
If moles are causing problems in your garden, get in touch with Louise to arrange for a site survey or consultation. Call 01603 25 99 45 or 07876 14 11 53 or email louise@ladymolecatcher.co.uk
After a frustrating three months of mole activity in the garden, which had unhappily thwarted others, I contacted Louise. The very next morning the mole catcher arrived to set the traps. When he checked them the following afternoon, two moles had been caught! I am very impressed by the speedy, professional and, above all, most effective, service provided. Brilliant!
Louise was dealing with a mole & rat problem we had which she dealt with very efficiently. On her last visit we discovered a wasp nest & Louise did a great job of getting rid of them too! Cannot recommend her too highly!
Louise sorted our first mole problem in just two hours, the second by the next morning. Her professionalism, knowledge and experience of where to position the traps was so accurate, just amazing! We have felt incredibly comfortable working with Louise who is a very friendly and sociable young lady. We would have absolutely no hesitation in recommending Louise.
Very professional and quick results. If you have moles in your lawn, call Louise. I will always recommend you! Thank you.
Here at Broads Edge Marina we had a mole problem, Louise was very professional, reliable and competitive on price. Would highly recommend.
I moved into a two acre plot with over 50 mole hills. Louise came in and sorted my mole problem in a week. She was extremely professional, honest and very interesting to talk to. I would thoroughly recommend her.
Louise set 1 trap and hey presto the problem was cured within 2 days. An excellent service Louise and thank you very much. Wouldn't hesitate to recommend or use again.
My long standing mole problem was very efficiently eradicated. Now for the first time in years I can look forward to a beautiful lawn. I would recommend lady mole catcher, good job well done at a reasonable cost.