Coronavirus Deep Clean Decontamination
Specialist 'Deep Clean' Disinfection and Decontamination Service for Coronavirus COVID-19.
What is Coronavirus (COVID-19)?
Novel coronavirus (COVID-19) is a new strain of coronavirus first identified in Wuhan City, China. Typical symptoms of coronavirus include fever and a cough that may progress to a severe pneumonia causing shortness of breath and breathing difficulties. Coronavirus can cause more severe symptoms in people with weakened immune systems, older people, and those with long-term conditions like diabetes, cancer and chronic lung disease.
How is Coronavirus (COVID-19) spread?
Transmission is most likely to happen when there is close contact (within 2 metres) with someone who is showing symptoms of the virus. When an infected person coughs or sneezes, the virus is transmitted from person to person.
Cleaning & Disinfection Advice
All surfaces that an infected person has come into contact with must be cleaned and disinfected, especially in public spaces or institutions such as schools and offices. Frequently touched surfaces for coronavirus cleaning include::
Desktops and all work surfaces
Doorknobs and door handles
Light switches and dimmer switches
Computer monitors, keyboards, mice
Tablets and laptops
Telephone equipment
All chair rests and arms
Canteen tables and chairs, crockery, trays and cutlery
Sinks, taps and kitchen areas
Toilets, including all surfaces
Water fountains and drinks dispensers and vending machines
Lifts and their doors and buttons
How Louise Chapman, Lady Mole Catcher can help in domestic and commercial settings
Specialist Infection Prevention and Control by Experts
In conjunction with Kill Germ Chemicals, Louise Chapman is licensed and equipped for Coronavirus decontamination, prevention and cleaning/infection control using the tested PX ULV Disinfectant.
According to EN14476:2013 + A2:2019, testing the efficacy of a disinfectant against Adenovirus and Murine norovirus allows the product to claim efficacy against enveloped viruses including Coronavirus. This specialist disinfection cleaning service will make sure that rooms and places of business are safe for staff and customers.
Using an ULV (Ultra Low Volume) fogging/misting system, which can cover a large space very quickly, the disinfectant mist settles in hard to reach areas. Dispersal of molecules which are less than 30 microns in size ensure that misting/fogging by the specialist equipment used, have been found to access areas in which larger molecules cannot enter to create greater coverage for killing airborne or settled viruses and bacteria. Standard cleaning alone is not sufficient.
This means that Louise can help prevent the spread by decontaminating and deep cleaning potentially affected rooms and surfaces.
Re-entry time to spaces after treatment is between 1-4 hours. Treatments can be carried out at night or at weekends if necessary.
As a reminder, the advice for anyone in any setting is to follow these main guidelines:
The most common symptoms of coronavirus (COVID-19) are recent onset of a new continuous cough and/or high temperature. If you have these symptoms, however mild, stay at home and do not leave your house for 14 days from when your symptoms started. You do not need to call NHS 111 to go into self-isolation. If your symptoms worsen during home isolation or are no better after 7 days, contact NHS 111 online. If you have no internet access, you should call NHS 111. For a medical emergency dial 999.
Wash your hands more often than usual, for 20 seconds using soap and hot water, particularly after coughing, sneezing and blowing your nose, or after being in public areas where other people are doing so. Use hand sanitiser if that's all you have access to.
To reduce the spread of germs when you cough or sneeze, cover your mouth and nose with a tissue, or your sleeve (not your hands) if you don't have a tissue, and throw the tissue away immediately. Then wash your hands or use a hand sanitising gel.
Clean and disinfect regularly touched objects and surfaces using your regular cleaning products to reduce the risk of passing the infection on to other people
Source: Department of Health & Social Care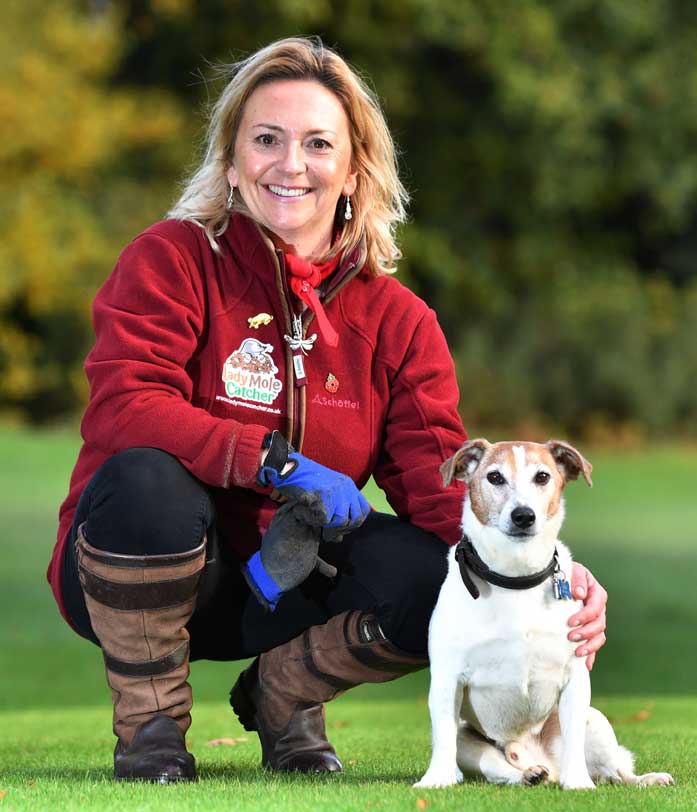 Louise Chapman BA (Hons) PGCE
Norfolk's very own Lady Mole Catcher®
Who I work with
Householders in their gardens
Farmers and Land Agents
Outdoor Leisure Facilities
Businesses
Restaurants and Pubs
Schools/Colleges
Local Authorities
Don't risk your health or business.
If you need coronavirus decontamination or deep cleaning for your business, or domestic property, get in touch with Louise to arrange for a site visit and no-obligation quote. Call 01603 25 99 45 or 07876 14 11 53 or email louise@ladymolecatcher.co.uk
We have used Louise on three occasions for cluster flies and a flea issue at our holiday home. Every time she has provided an excellent service and dealt with the problem very quickly for us.
Having found moths in our lounge/dining room carpet I got in touch with Louise.  She came, looked, explained about the damage moths do to carpets and treated all our carpets, both upstairs and down.  She was efficient, very professional and returned twice more to check she had got rid of them. She is very friendly and also very interesting to talk to.  We would not hesitate to recommend her. Thank you Louise!
One of the joys in my life is the many varieties of birds that come into the garden and use the  bird feeders. Recently Grey Squirrels had become a serious nuisance. They are spiteful not only to each other but to the birds, who became reluctant to use the feeders. I was also concerned that once the birds started laying their eggs they would take those as well.  I contacted Louise, the Lady Mole Catcher and asked for her help. Louise assured me that she would trap the Squirrels humanely, which she did very efficiently. Seven Squirrels later I now have the birds feeding again. I thoroughly recommend Louise she is professional, friendly and very efficient at what she does.
Louise did an excellent job. She responded quickly to our request and her knowledge and professional approach were exactly what we were looking for. She was able to catch the squirrels that had caused so much damage and do so fitting in around our other commitments. I would certainly recommend.
Louise was dealing with a mole & rat problem we had which she dealt with very efficiently. On her last visit we discovered a wasp nest & Louise did a great job of getting rid of them too! Cannot recommend her too highly!
Having worked with Louise (Lady Molecatcher) during recent weeks regarding a problem we had with both moles & rats, we then found a wasp nest in our shed. There was nobody else to call but Lady Molecatcher…the wasp nest was dealt with professionalism and knowledge, it was all over in just a few moments. Sorted! We then discovered another two wasp nests in the roof of the house and again Lady Molecatcher arrived the same day we called her and again the situation was dealt with swiftly. We would without any hesitation recommend Louise to deal with any of the above issues you may have. It was a pleasure to come across somebody who can deal with these issues in a professional manner but always with a smile on her face.
I'd like to thank Louise for solving a Bed Bug problem swiftly. My daughter had arrived home after a school trip and brought with her some unwelcome guests - Bed Bugs! My daughter was bitten and the Doctor confirmed Bed Bugs, which he said probably hitched a ride in my daughter's luggage. Louise came the very day I 'phoned her and took control of the situation. Thank you Louise, what a relief!!
Louise sorted our first mole problem in just two hours, the second by the next morning. Her professionalism, knowledge and experience of where to position the traps was so accurate, just amazing! We have felt incredibly comfortable working with Louise who is a very friendly and sociable young lady. We would have absolutely no hesitation in recommending Louise.
Louise was very prompt and efficient. We had a serious rabbit problem which she has brought under control. She explained what was needed, carried out the work and returned as promised to complete what was started. We would definitely recommend Louise to anyone.
Rabbits, not moles, were my problem. Lots of them and notice the past tense. Over the years I had tried my methods and different individuals to cure my rabbit problem without luck. My garden over the past two years was devoured by rabbits. Along came Louise and within three weeks the rabbits were gone. Her approach was multifaceted. She arrived when she said she would, kept me informed of progress while I was away by video and persisted until I could confirm there were no more sightings of rabbits. I would recommend her services.
Very professional and quick results. If you have moles in your lawn, call Louise. I will always recommend you! Thank you.
Louise has helped us out on numerous occasions: excellent all round, would highly recommend.