Lady Mole Catcher is also qualified to deal with cluster flies. As a professional wildlife management specialist, she has the knowledge and skills to deal with infestations as well as having access to specific insecticides which are not available to the general public.
About Cluster Flies
The common cluster fly (Polleniarudis) is often mistaken for a house fly. It is large and black but also has yellow or golden hairs on the thorax (between the head and the body) and a chequered pattern on the abdomen (stomach). They fly in a sluggish manner and can often return to the same place every autumn. Because they hibernate in winter, you may find large numbers of cluster flies gathered in your loft space or upper rooms – not very nice for the inhabitants of your home or visitors to your business!
How do you know if you have cluster flies on your property?
Cluster flies are often found in large numbers and in upper rooms or loft spaces, 'clustered' around windows or undisturbed warm areas
The insects gather in buildings during the autumn (Sept/Oct) as they get ready to hibernate for the winter and re-emerge in spring (March/April)
Cluster flies will often return to the same property or location year after year
Although similar to the house fly, cluster flies are slightly bigger, more yellowish in colour and fly at a slower pace
When congregating in large numbers, cluster flies can give off a sickly-smelling odour
Cluster flies are common in rural areas because their larvae feed upon certain earthworms found in the nearby soil
Why control Cluster Flies?
There are a few issues to consider if you discover an infestation:
Although they do not bite, living with a large infestation of cluster flies can be an annoying and unpleasant experience
The best way to deal with cluster fly infestations is by employing the skills of a professional controller, who can use specialist treatments to target active flies and others that may emerge after hibernation in the spring
Most sprays available from DIY stores are ineffective against insects that are hibernating within walls and cracks
Bear in mind that insecticides must be used with caution to prevent them coming into contact with bats, which are a protected species in the UK
Cluster flies can squeeze into small spaces therefore fly screens are mostly redundant
Large numbers of flies can leave behind excrement and dirt on your walls and floors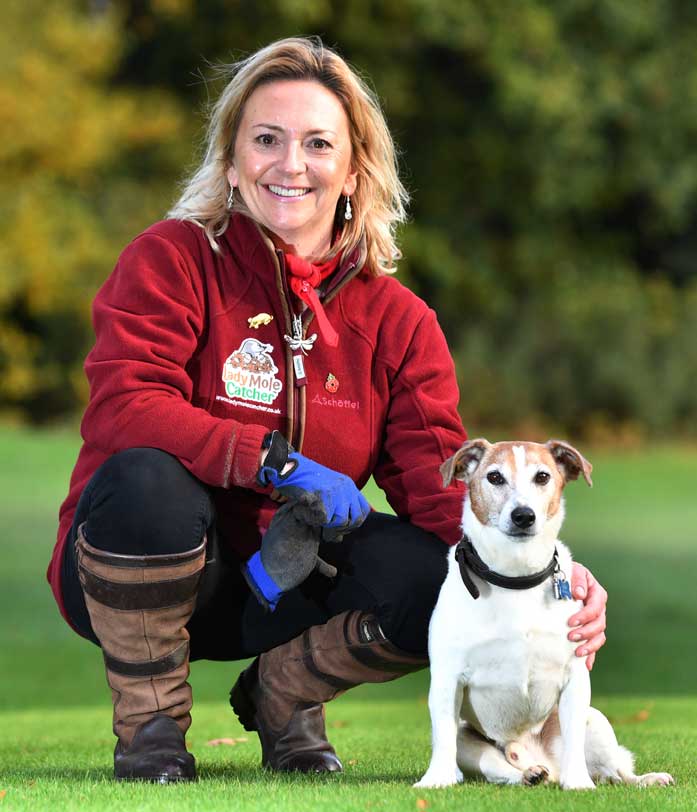 Louise Chapman BA (Hons) PGCE
Norfolk's very own Lady Mole Catcher®
Who I work with
Householders in their gardens
Farmers and Land Agents
Outdoor Leisure Facilities
Businesses
Restaurants and Pubs
Schools/Colleges
Local Authorities
If Cluster Flies are causing problems in your area, get in touch with Louise to arrange for a site visit and no-obligation quote for treatment of the infestation. Call 01603 25 99 45 or 07876 14 11 53 or email louise@ladymolecatcher.co.uk
I'd like to thank Louise for solving a Bed Bug problem swiftly. My daughter had arrived home after a school trip and brought with her some unwelcome guests - Bed Bugs! My daughter was bitten and the Doctor confirmed Bed Bugs, which he said probably hitched a ride in my daughter's luggage. Louise came the very day I 'phoned her and took control of the situation. Thank you Louise, what a relief!!
Very professional and quick results. If you have moles in your lawn, call Louise. I will always recommend you! Thank you.
Louise has helped us out on numerous occasions: excellent all round, would highly recommend.
Here at Broads Edge Marina we had a mole problem, Louise was very professional, reliable and competitive on price. Would highly recommend.
Organised for my parents property, we thought she was very efficient and a good quality of service. Will use again.
I moved into a two acre plot with over 50 mole hills. Louise came in and sorted my mole problem in a week. She was extremely professional, honest and very interesting to talk to. I would thoroughly recommend her.
Louise set 1 trap and hey presto the problem was cured within 2 days. An excellent service Louise and thank you very much. Wouldn't hesitate to recommend or use again.
I felt totally at ease with her and knew exactly how much it was going to cost me. It was exactly how she described it and was payment by results as she stated on her website. I have no problem in recommending Louise to anybody.
Amazing service; e-mailed day one, Louise was at mine the next day and within a week the little critter was caught. Thank you so much; highly recommend!
My long standing mole problem was very efficiently eradicated. Now for the first time in years I can look forward to a beautiful lawn. I would recommend lady mole catcher, good job well done at a reasonable cost.
A fantastic job done with the utmost of care and keeping me informed about her progress. I would have no hesitation in recommending Louise and hope that she continues her success.