Welcome to the world of Lady Mole Catcher
Norfolk's very own Lady Mole Catcher®
Hello, I am Louise Chapman BA (Hons) PGCE, the Lady Mole Catcher and I head the British Mole Catchers Register. I was trained under the expert tutelage of John Lill in 2010. Having previously worked as a teacher, I made a lifestyle choice to become Lady Mole Catcher.
Why choose me to manage your moles…?
I do not charge a trap setting fee, a visit fee or a mileage fee
I offer you competitive rates, without fuss
I am a traditional mole catcher and I do not use gas or chemicals.
I can, and will deal with, moles in all situations and environments.
I am often asked about methods of mole control, that people believe will work. Amongst others, these have included:
Putting a tube attached to a car exhaust down into the run.
Pouring diesel into a run and worse still, igniting it!
Beware that these methods are illegal and that the use of explosives or asphyxiation for the killing of any wild animal under section 11(1) of the Wildlife and Countryside Act 1981, can lead to a £5,000 fine or up to 6 months in prison. These methods cause unnecessary suffering to the animal and it is my purpose to ensure that the animal experiences minimal suffering.
To see what else you should not do click 'What NOT to do'
Lady Mole Catcher is fully insured, has an Enhanced DBS check which means she is 'Safe'. She offers you an experienced, highly knowledgeable and professional service.
New Wildlife Management Services – Rats, Mice, Grey Squirrels, American Mink & Wild Rabbit control
Louise Chapman has a certified training qualification from The BASIS Registration Board in Principles of Rodent Control and is a recognised member of the BASIS Prompt Register (a register of managers and technicians providing professional pest control services and advice).
Click on the 'My Services' tab for more information.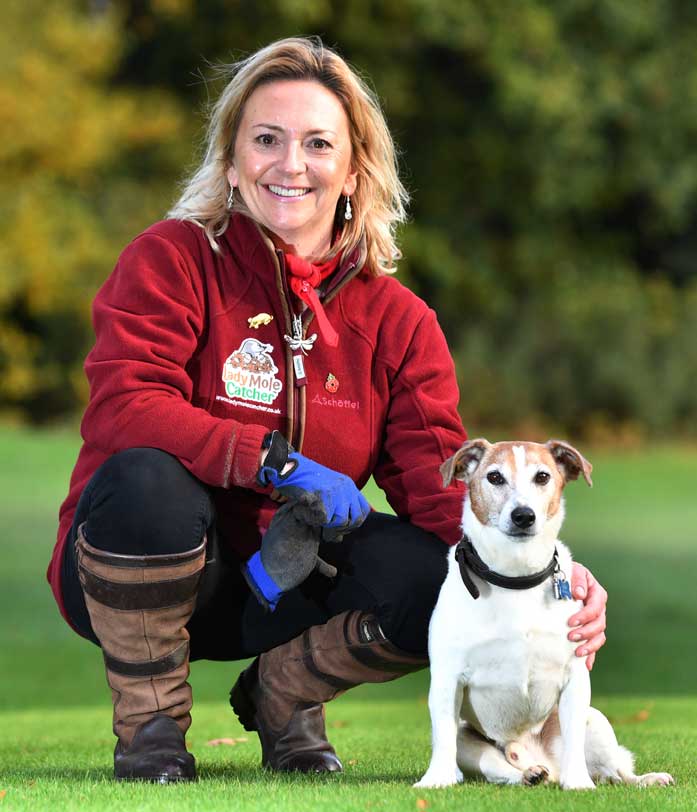 Louise Chapman BA (Hons) PGCE
Norfolk's very own Lady Mole Catcher®
Who I work with
Householders in their garden
Farmers and Land Agents
Outdoor Leisure Facilities
Businesses
Restaurants and Pubs
Schools/Colleges
Local Authorities
For a no-obligation quotation or a site visit please do not hesitate to call Louise on 01603 25 99 45 or 07876 14 11 53 or email louise@ladymolecatcher.co.uk
Very professional and quick results. If you have moles in your lawn, call Louise. I will always recommend you! Thank you.
Louise has helped us out on numerous occasions: excellent all round, would highly recommend.
Here at Broads Edge Marina we had a mole problem, Louise was very professional, reliable and competitive on price. Would highly recommend.
Organised for my parents property, we thought she was very efficient and a good quality of service. Will use again.
I moved into a two acre plot with over 50 mole hills. Louise came in and sorted my mole problem in a week. She was extremely professional, honest and very interesting to talk to. I would thoroughly recommend her.
Louise set 1 trap and hey presto the problem was cured within 2 days. An excellent service Louise and thank you very much. Wouldn't hesitate to recommend or use again.
I felt totally at ease with her and knew exactly how much it was going to cost me. It was exactly how she described it and was payment by results as she stated on her website. I have no problem in recommending Louise to anybody.
Amazing service; e-mailed day one, Louise was at mine the next day and within a week the little critter was caught. Thank you so much; highly recommend!
My long standing mole problem was very efficiently eradicated. Now for the first time in years I can look forward to a beautiful lawn. I would recommend lady mole catcher, good job well done at a reasonable cost.
A fantastic job done with the utmost of care and keeping me informed about her progress. I would have no hesitation in recommending Louise and hope that she continues her success.
Louise was great. She does exactly what she says. No fuss, very knowledgeable and gets the job done. Two moles caught that had been playing havoc on my slope.