Welcome to the world of Lady Mole Catcher
Norfolk's very own Lady Mole Catcher®
Hello, I am Louise, Lady Mole Catcher and I also head the British Mole Catchers Register. I was trained under the expert tutelage of John Lill in 2010. Having previously worked as a teacher, I made a lifestyle choice to become Lady Mole Catcher, which involves meeting lovely people everyday and enjoying the great out doors.
I am also available for talks and after dinner speaking engagements, where I can tell you all about the wonderful world of moles.
My business is simple. If I do not catch your moles there is nothing to pay. I do not charge a trap setting fee, a visit fee or a mileage fee.
I offer you competitive rates, without fuss.
I am a traditional mole catcher, using only British made traps.
I can, and will deal with, moles in all situations and environments.
I am often asked about methods of mole control, that people believe will work. Amongst others, these have included:
Putting a tube attached to a car exhaust down into the run.
Pouring diesel into a run and worse still, igniting it!
Beware that these methods are illegal and that the use of explosives or asphyxiation for the killing of any wild animal under section 11(1) of the Wildlife and Countryside Act 1981, can lead to a £5,000 fine or up to 6 months in prison. These methods cause unnecessary suffering to the animal and it is my purpose to ensure that the animal experiences minimal suffering.
Lady Mole Catcher is fully insured and offers you an experienced, highly knowledgeable and professional service. It will be my pleasure to discuss with you, how I may help you.
For a no-obligation quotation or site visit please don't hesitate to call Louise on 01603 25 99 45 or 07876 14 11 53 or email louise@ladymolecatcher.co.uk
---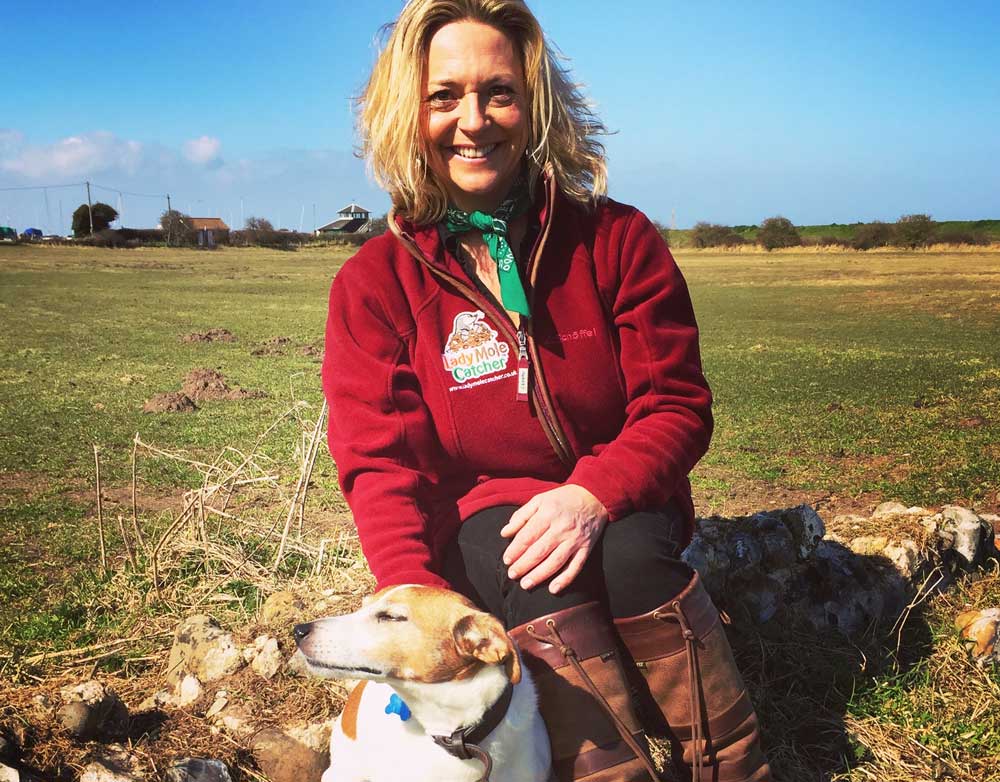 Louise Chapman BA (Hons) PGCE
Norfolk's very own Lady Mole Catcher®
---
Who I work with
Householders in their garden
Farmers and Land Agents
Golf Courses
Businesses
Restaurants and Pubs
Schools/Colleges
Local Authorities
---
For a no-obligation quotation or a site visit please do not hesitate to call Louise on 01603 25 99 45 or 07876 14 11 53 or email louise@ladymolecatcher.co.uk
---
We returned from holiday to find our back lawn looking like the Somme. We stopped counting mole-hills after we reached fifty. We could have cried. The Lady Mole-catcher came to our rescue – in the end catching some 25 moles – and helped save our lawn and our sanity. We continue to use the Lady Mole-catcher 's services to make sure that the moles do not once more have the upper-hand. We would happily recommend Lady Mole-catcher.

Ian – Yaxham, Norfolk
---