Lady Mole Catcher is also qualified to deal with fleas. As a professional wildlife management specialist, she has the knowledge and skills to deal with infestations as well as having access to specific insecticides which are not available to the general public.
What are fleas?
Fleas can be a common problem in UK households, especially if you have pets. The main UK flea species are the Dog Flea (Ctenocephalides canis) and the Cat Flea (Ctenocephalides felis). Even if you don't own any pets, these parasitic insects can already be lying dormant in your house or be carried into your house without your knowledge. Cat fleas are 3mm long, brown and flattened in shape. Dog fleas are brownish black in colour and are 1 to 4 mm long. Both are wingless but have surprisingly powerful legs, enabling them to jump incredibly long distances. This means that they can easily move from your pets to you for a blood meal. Fleas are seasonal and they particularly enjoy hot weather and a warm host to settle on. Their life cycle can last anywhere from two weeks to eight months.
How do you know if you have fleas on your property?
It's possible that you could spot oval, pearl-white flea eggs but they are tiny (approx. 0.5mm long), making them extra difficult to spot. Although fleas will lay their eggs on your pet's body, they are not sticky so they easily fall off and can become hidden in carpets or furnishings. Once hatched, flea larvae will feed on faecal material from the adults before they pupate and can then lay dormant for several weeks. It's therefore important to vacuum regularly and wash pet bedding weekly, ideally at a hot temperature. Adult fleas are attracted to the carbon dioxide that we exhale as we breathe and also to our body heat. You may sometimes see adult fleas, especially if they jump onto your skin or even their faecal matter, which has a 'salt and pepper' appearance. Fleas tend to bite humans below the knee, as they can't jump any higher and they may also congregate near your pets bedding, ready and waiting for an easy meal.

Why control Fleas?
There are a few issues to consider if you discover an infestation:
Firstly, see your vet for advice on the best flea products that work for your pet and make sure that your cat/dog is clear of fleas, eggs & larvae
The next step is to deal with the problem on your property – the problem will continue if the remaining flea eggs hatch & their life cycle begins again
Remember that an infestation can start from just one flea or one egg
If not treated quickly, flea problems can affect businesses – the working environment for your staff will be unpleasant & customers are likely to stay away
Fleas are notoriously fast breeders – this makes it difficult to prevent fleas completely without professional help
Around 95 percent of flea eggs & larvae live in the environment, not on your pet
If your home is centrally heated, you may need to treat your pet and/or your home for fleas all year round
The best treatment is for an infestation not to become an infestation in the first place – get rid of all food waste, don't leave pet food outside and repair any holes which may encourage rodents to enter your property (they also carry fleas)
Here's a recent article about fleas and the unprecedented hot weather in 2018:
https://www.express.co.uk/news/nature/990850/Heatwave-WARNING-Summer-rains-to-bring-invasion-of-blood-sucking-FLEAS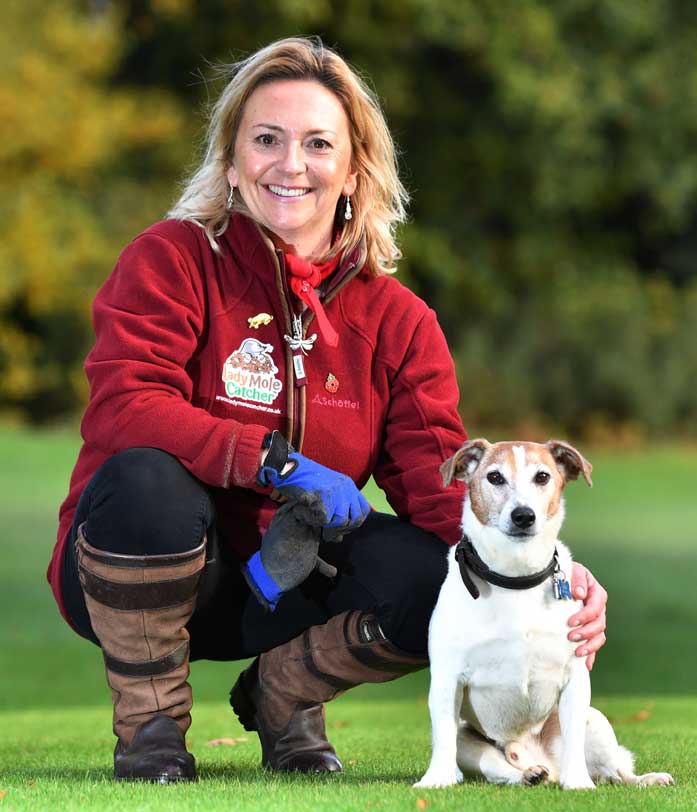 Louise Chapman BA (Hons) PGCE
Norfolk's very own Lady Mole Catcher®
Who I work with
Householders in their gardens
Farmers and Land Agents
Outdoor Leisure Facilities
Businesses
Restaurants and Pubs
Schools/Colleges
Local Authorities
If Fleas are causing problems for you, get in touch with Louise to arrange for a site visit and no-obligation quote for treatment of the infestation. Call 01603 25 99 45 or 07876 14 11 53 or email louise@ladymolecatcher.co.uk
We have used Louise on three occasions for cluster flies and a flea issue at our holiday home. Every time she has provided an excellent service and dealt with the problem very quickly for us.
Having found moths in our lounge/dining room carpet I got in touch with Louise.  She came, looked, explained about the damage moths do to carpets and treated all our carpets, both upstairs and down.  She was efficient, very professional and returned twice more to check she had got rid of them. She is very friendly and also very interesting to talk to.  We would not hesitate to recommend her. Thank you Louise!
One of the joys in my life is the many varieties of birds that come into the garden and use the  bird feeders. Recently Grey Squirrels had become a serious nuisance. They are spiteful not only to each other but to the birds, who became reluctant to use the feeders. I was also concerned that once the birds started laying their eggs they would take those as well.  I contacted Louise, the Lady Mole Catcher and asked for her help. Louise assured me that she would trap the Squirrels humanely, which she did very efficiently. Seven Squirrels later I now have the birds feeding again. I thoroughly recommend Louise she is professional, friendly and very efficient at what she does.
Louise did an excellent job. She responded quickly to our request and her knowledge and professional approach were exactly what we were looking for. She was able to catch the squirrels that had caused so much damage and do so fitting in around our other commitments. I would certainly recommend.
Louise was dealing with a mole & rat problem we had which she dealt with very efficiently. On her last visit we discovered a wasp nest & Louise did a great job of getting rid of them too! Cannot recommend her too highly!
Having worked with Louise (Lady Molecatcher) during recent weeks regarding a problem we had with both moles & rats, we then found a wasp nest in our shed. There was nobody else to call but Lady Molecatcher…the wasp nest was dealt with professionalism and knowledge, it was all over in just a few moments. Sorted! We then discovered another two wasp nests in the roof of the house and again Lady Molecatcher arrived the same day we called her and again the situation was dealt with swiftly. We would without any hesitation recommend Louise to deal with any of the above issues you may have. It was a pleasure to come across somebody who can deal with these issues in a professional manner but always with a smile on her face.
I'd like to thank Louise for solving a Bed Bug problem swiftly. My daughter had arrived home after a school trip and brought with her some unwelcome guests - Bed Bugs! My daughter was bitten and the Doctor confirmed Bed Bugs, which he said probably hitched a ride in my daughter's luggage. Louise came the very day I 'phoned her and took control of the situation. Thank you Louise, what a relief!!
Louise sorted our first mole problem in just two hours, the second by the next morning. Her professionalism, knowledge and experience of where to position the traps was so accurate, just amazing! We have felt incredibly comfortable working with Louise who is a very friendly and sociable young lady. We would have absolutely no hesitation in recommending Louise.
Louise was very prompt and efficient. We had a serious rabbit problem which she has brought under control. She explained what was needed, carried out the work and returned as promised to complete what was started. We would definitely recommend Louise to anyone.
Rabbits, not moles, were my problem. Lots of them and notice the past tense. Over the years I had tried my methods and different individuals to cure my rabbit problem without luck. My garden over the past two years was devoured by rabbits. Along came Louise and within three weeks the rabbits were gone. Her approach was multifaceted. She arrived when she said she would, kept me informed of progress while I was away by video and persisted until I could confirm there were no more sightings of rabbits. I would recommend her services.
Very professional and quick results. If you have moles in your lawn, call Louise. I will always recommend you! Thank you.
Louise has helped us out on numerous occasions: excellent all round, would highly recommend.