Wildlife Proof Fencing – protecting your land
As a wild life management specialist, I understand the impact of damage that can occur and offer wild life proof fencing to exclude those pests to protect your property and vegetation. Fencing is humane and provides years of protection to your property and vegetation, provided it is installed properly and to the correct standard.
Rabbit Fencing
Rabbits often enter gardens from neighbouring land and they have a tendency to tunnel beneath low fences, gates or existing netting that isn't buried deep enough into the ground. They can also climb over and chew through thin nets and fences. I always take into consideration the capabilities and size of both young and adult rabbits when I assess each project. Rabbit fencing consists of heavy-duty netting fitted to high tensile straining wires, attached to sturdy and evenly placed posts.
Deer Fencing
If you live in a rural area, deer fencing may be required to protect your land and it is important to construct a fence that is fit for purpose. There are different species of deer residing in the UK and each may behave differently when they come into contact with a barrier. I will apply my skills and experience to plan and create suitable fencing which prevents deer jumping over, going through or ducking under, depending in their size and capability.
Badger Fencing
Badgers are a protected species in the UK and it is therefore illegal to trap them, harm them or interfere with their setts/burrows. They can however create problems in your garden by digging holes in their search for food so you may decide to deter them with suitable fencing and badger gates.
Otter Fencing
Otters are voracious hunters and extensive travellers – they are also currently increasing their range across the UK. With their superb climbing and digging skills, otters are sleek and speedy predators who can easily decimate your garden pond, fishing lake or egg shed. Specialist fencing is required to ensure that they cannot climb over or dig underneath netting. Electric fencing is sometimes employed to ensure an optimum deterrent although I will always assess each project individually and advise on the most suitable solution to your problem.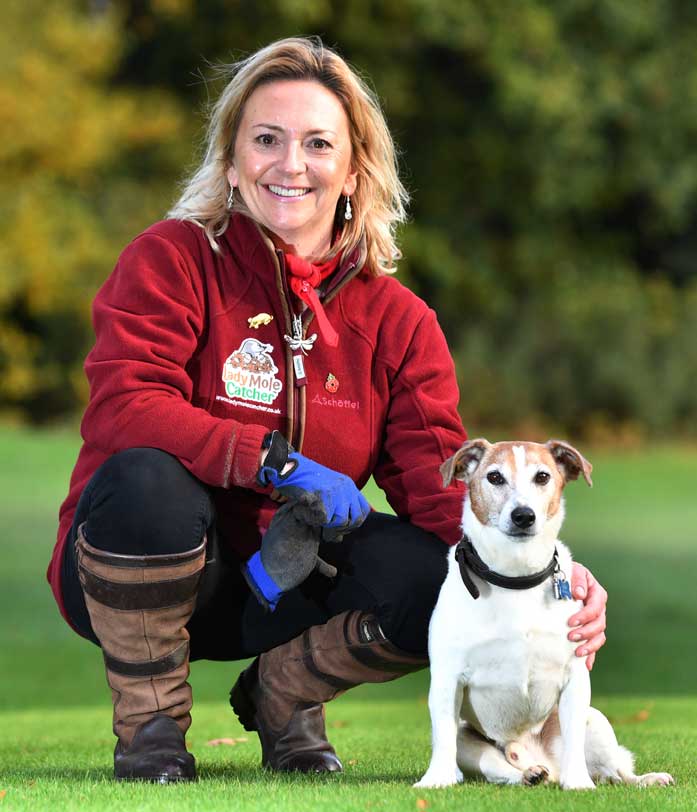 Louise Chapman BA (Hons) PGCE
Norfolk's very own Lady Mole Catcher®
Who I work with
Householders in their gardens
Farmers and Land Agents
Outdoor Leisure Facilities
Businesses
Restaurants and Pubs
Schools/Colleges
Local Authorities
For expert advice and wildlife proof fence installation, get in touch with Louise to arrange for a site visit and no-obligation quote. Call 01603 25 99 45 or 07876 14 11 53 or email louise@ladymolecatcher.co.uk
I'd like to thank Louise for solving a Bed Bug problem swiftly. My daughter had arrived home after a school trip and brought with her some unwelcome guests - Bed Bugs! My daughter was bitten and the Doctor confirmed Bed Bugs, which he said probably hitched a ride in my daughter's luggage. Louise came the very day I 'phoned her and took control of the situation. Thank you Louise, what a relief!!
Very professional and quick results. If you have moles in your lawn, call Louise. I will always recommend you! Thank you.
Louise has helped us out on numerous occasions: excellent all round, would highly recommend.
Here at Broads Edge Marina we had a mole problem, Louise was very professional, reliable and competitive on price. Would highly recommend.
Organised for my parents property, we thought she was very efficient and a good quality of service. Will use again.
I moved into a two acre plot with over 50 mole hills. Louise came in and sorted my mole problem in a week. She was extremely professional, honest and very interesting to talk to. I would thoroughly recommend her.
Louise set 1 trap and hey presto the problem was cured within 2 days. An excellent service Louise and thank you very much. Wouldn't hesitate to recommend or use again.
I felt totally at ease with her and knew exactly how much it was going to cost me. It was exactly how she described it and was payment by results as she stated on her website. I have no problem in recommending Louise to anybody.
Amazing service; e-mailed day one, Louise was at mine the next day and within a week the little critter was caught. Thank you so much; highly recommend!
My long standing mole problem was very efficiently eradicated. Now for the first time in years I can look forward to a beautiful lawn. I would recommend lady mole catcher, good job well done at a reasonable cost.
A fantastic job done with the utmost of care and keeping me informed about her progress. I would have no hesitation in recommending Louise and hope that she continues her success.