Spooky tales & plenty of moles!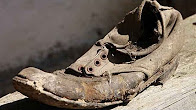 While out on my mole catching travels, I visited a very interesting house in Wymondham, just south of Norwich. An 18th century building and a former pub, a lot of renovation work is now taking place. I met builder Dougie who while working downstairs, made an interesting discovery behind the chimney stack. He found a pair of old shoes but oddly, they were two left feet and seemed to belong to a child. Upon further investigation, it's believed that this was an old ritual for warding off witches from property…. In the attic room, it's said that a series of rituals occurred and the story goes that it was in fact exorcised by a priest. Dougie didn't feel comfortable working there alone and there are some interesting 'orbs' appearing on my video – be sure to take a look!
My other new video uploads include a very rare meeting with a mole on a busy main road; molehills causing problems on a school sports field; a return visit to Norwich Aviation Museum to meet the Avro Vulcan; more dog tales and some stunning Spring scenery!
It was also a pleasure to give further educational talks this month; many thanks to the ladies of Poringland WI, Drayton WI, Newton Flotman & District WI for making me so welcome!
You can view my latest videos on my You Tube channel!