Lady Mole Catcher is also qualified to deal with rats, with or without poison.
Louise Chapman has a certified training qualification from The BASIS Registration Board in Principles of Rodent Control and is a recognised member of the BASIS Prompt Register (a register of managers and technicians providing professional pest control services and advice).
About Rats
In the UK there are two types of rat which have a tendency to cause problems for homes and businesses – brown (common) rats and black rats. Although black rats (Rattus rattus) are more rare, they are excellent climbers and tend not to burrow. Brown rats (Rattus norvegicus) are more common, spend their time burrowing outside and can also be found in sewers. Rats are persistent animals and once they gain access to your property, they can spread bacteria, diseases and cause a lot of damage.
How do you know if you have a rat problem?
Although you may not have seen any rats, you may have heard scratching noises or found some small dark brown droppings. There may also be greasy rub marks on smooth surfaces, rat holes where they have created shelter, rat nests made from soft materials or footprints in dusty areas. Rats are mainly active at night so it's possible that you may never actually see them.
Why control rats?
There are a few issues to consider if you discover a rat infestation:
Property damage – rats will gnaw their way through wires, insulation, pipes, woodwork and more. They also tend to make nests out of any soft material they can find such as insulation or fabrics
Contamination – pathogens found in rat droppings and urine can lead to the spread of dangerous diseases such as Leptospirosis, commonly known as Weil's Disease and Salmonellosis.
Fire safety – the insurance sector have estimated that rodent damage to wiring is responsible for 25% of all electrical fires in buildings (info from BPCA)
Reputation – if you have a rodent infestation, it doesn't reflect well on your business. Customers could spot evidence of rats on your premises and no longer work with you
Legal obligation – property owners have a legal obligation under the Prevention of Damage by Pests Act 1949 to keep premises rodent free or to report infestations to the local authority (info from BPCA)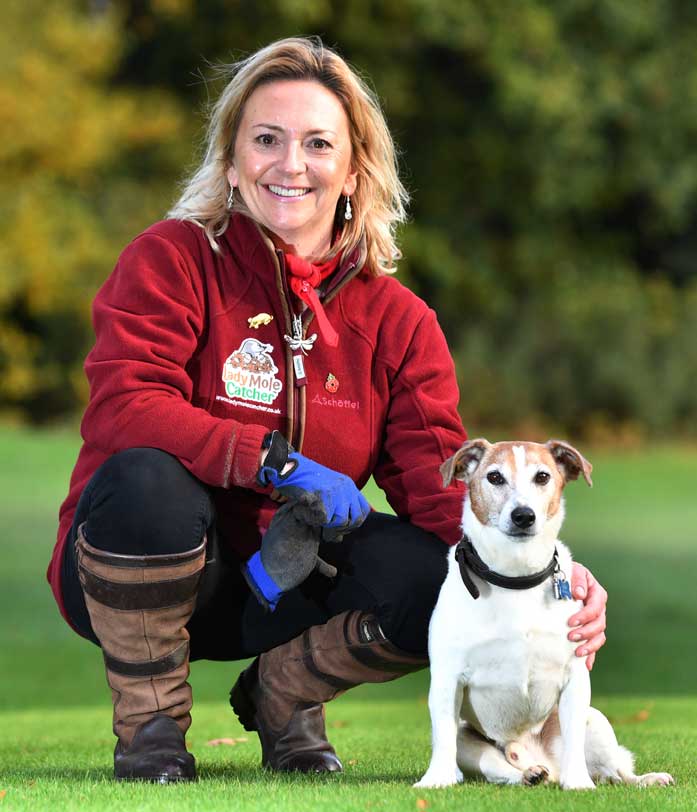 Louise Chapman BA (Hons) PGCE
Norfolk's very own Lady Mole Catcher®
Who I work with
Householders in their gardens
Farmers and Land Agents
Outdoor Leisure Facilities
Businesses
Restaurants and Pubs
Schools/Colleges
Local Authorities
If rats are causing problems in your property or your garden, get in touch with Louise to arrange for a site visit and no-obligation quote. Call 01603 25 99 45 or 07876 14 11 53 or email louise@ladymolecatcher.co.uk
Louise was dealing with a mole & rat problem we had which she dealt with very efficiently. On her last visit we discovered a wasp nest & Louise did a great job of getting rid of them too! Cannot recommend her too highly!
Having worked with Louise (Lady Molecatcher) during recent weeks regarding a problem we had with both moles & rats, we then found a wasp nest in our shed. There was nobody else to call but Lady Molecatcher…the wasp nest was dealt with professionalism and knowledge, it was all over in just a few moments. Sorted! We then discovered another two wasp nests in the roof of the house and again Lady Molecatcher arrived the same day we called her and again the situation was dealt with swiftly. We would without any hesitation recommend Louise to deal with any of the above issues you may have. It was a pleasure to come across somebody who can deal with these issues in a professional manner but always with a smile on her face.
I'd like to thank Louise for solving a Bed Bug problem swiftly. My daughter had arrived home after a school trip and brought with her some unwelcome guests - Bed Bugs! My daughter was bitten and the Doctor confirmed Bed Bugs, which he said probably hitched a ride in my daughter's luggage. Louise came the very day I 'phoned her and took control of the situation. Thank you Louise, what a relief!!
Very professional and quick results. If you have moles in your lawn, call Louise. I will always recommend you! Thank you.
Louise has helped us out on numerous occasions: excellent all round, would highly recommend.
Here at Broads Edge Marina we had a mole problem, Louise was very professional, reliable and competitive on price. Would highly recommend.
Organised for my parents property, we thought she was very efficient and a good quality of service. Will use again.
I moved into a two acre plot with over 50 mole hills. Louise came in and sorted my mole problem in a week. She was extremely professional, honest and very interesting to talk to. I would thoroughly recommend her.
Louise set 1 trap and hey presto the problem was cured within 2 days. An excellent service Louise and thank you very much. Wouldn't hesitate to recommend or use again.
I felt totally at ease with her and knew exactly how much it was going to cost me. It was exactly how she described it and was payment by results as she stated on her website. I have no problem in recommending Louise to anybody.
Amazing service; e-mailed day one, Louise was at mine the next day and within a week the little critter was caught. Thank you so much; highly recommend!
My long standing mole problem was very efficiently eradicated. Now for the first time in years I can look forward to a beautiful lawn. I would recommend lady mole catcher, good job well done at a reasonable cost.