Lady Mole Catcher is also qualified to deal with mice, with or without poison.
Louise Chapman has a certified training qualification from The BASIS Registration Board in Principles of Rodent Control and is a recognised member of the BASIS Prompt Register (a register of managers and technicians providing professional pest control services and advice).
About Mice
In the UK there are many species of mice but only a few are considered as pests and are therefore subject to control. The main species you may encounter in your home, garden or business are:
Field mice (Apodemus sylvaticus) rarely go into houses but will find sheds and barns during the winter. They have a passion for fruit and vegetables so are a particular threat to farms and small holdings.
House mice (Mus domesticus) are active all year round and often be found making themselves comfortable within your home or business premises.
Yellow necked field mice (Apodemus flavicollis) are mostly found in rural areas, however, they're also well known to cause a fire risk by chewing through electrical wiring.
How do you know if you have a mouse problem?
Mice are mainly active at night so they can search for food and hide themselves during the day. Some common signs of mice to look out for include:
Small, dark droppings on or inside cupboards and also along skirting boards
Grease marks along walls, floors and skirtings which mark out the mouse's regular travel routes
Urine pillars, which are a combination of dirt, urine and body grease which can be up to 4cm high and 1cm wide
You may hear scratching noises at night when mice are at their most active. They tend to be found in walls, under floorboards, in basements or lofts
Nests are built using easy to shred materials such as cardboard and fabrics. They can be found in lofts, walls, under floorboards, in airing cupboards and behind appliances
Footprints may be seen in unused areas where floors and walls are dusty
Spotting a live or dead mouse during the day can be a sign of a heavy infestation
Strong ammonia smells may be present because mice urinate frequently
Why control mice? There are a few issues to consider if you discover a mouse infestation:
Contamination of food – pathogens found in mouse droppings and urine can lead to the spread of dangerous diseases such as Leptospirosis, commonly known as Weil's Disease and Salmonellosis.
Property damage – mice gnaw at a range of items found in homes and business, some of which can cause safety issues such as increased risk of fire & flood from chewing through wires and pipes
Spread of diseases – mice carry pathogens in their urine and faeces which can transmit Hantavirus, Salmonellosis, Listeria and more
Business reputation – if customers notice that you have a mouse infestation, they may decide to stop working with you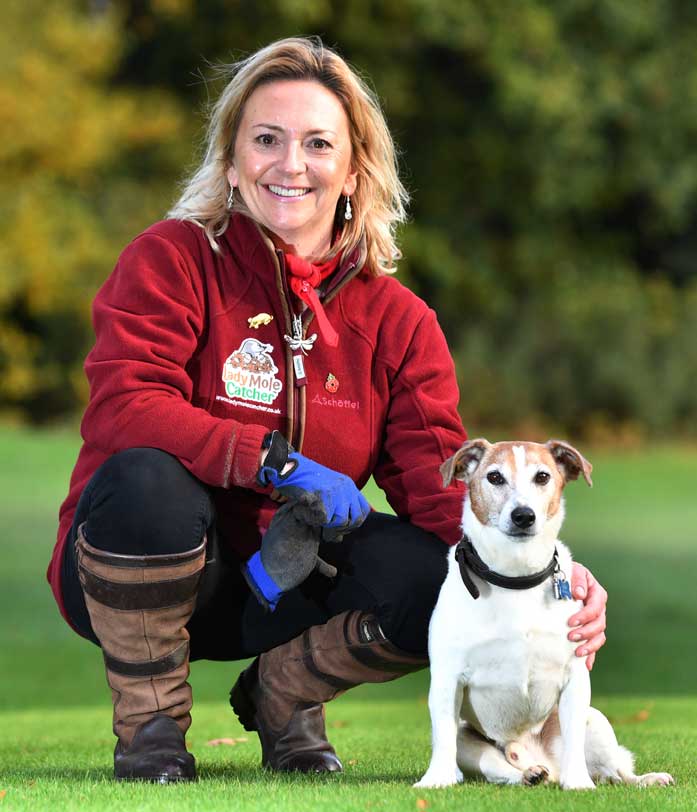 Louise Chapman BA (Hons) PGCE
Norfolk's very own Lady Mole Catcher®
Who I work with
Householders in their gardens
Farmers and Land Agents
Outdoor Leisure Facilities
Businesses
Restaurants and Pubs
Schools/Colleges
Local Authorities
If mice are causing problems in your property or your garden, get in touch with Louise to arrange for a site visit and no-obligation quote. Call 01603 25 99 45 or 07876 14 11 53 or email louise@ladymolecatcher.co.uk
I'd like to thank Louise for solving a Bed Bug problem swiftly. My daughter had arrived home after a school trip and brought with her some unwelcome guests - Bed Bugs! My daughter was bitten and the Doctor confirmed Bed Bugs, which he said probably hitched a ride in my daughter's luggage. Louise came the very day I 'phoned her and took control of the situation. Thank you Louise, what a relief!!
Very professional and quick results. If you have moles in your lawn, call Louise. I will always recommend you! Thank you.
Louise has helped us out on numerous occasions: excellent all round, would highly recommend.
Here at Broads Edge Marina we had a mole problem, Louise was very professional, reliable and competitive on price. Would highly recommend.
Organised for my parents property, we thought she was very efficient and a good quality of service. Will use again.
I moved into a two acre plot with over 50 mole hills. Louise came in and sorted my mole problem in a week. She was extremely professional, honest and very interesting to talk to. I would thoroughly recommend her.
Louise set 1 trap and hey presto the problem was cured within 2 days. An excellent service Louise and thank you very much. Wouldn't hesitate to recommend or use again.
I felt totally at ease with her and knew exactly how much it was going to cost me. It was exactly how she described it and was payment by results as she stated on her website. I have no problem in recommending Louise to anybody.
Amazing service; e-mailed day one, Louise was at mine the next day and within a week the little critter was caught. Thank you so much; highly recommend!
My long standing mole problem was very efficiently eradicated. Now for the first time in years I can look forward to a beautiful lawn. I would recommend lady mole catcher, good job well done at a reasonable cost.
A fantastic job done with the utmost of care and keeping me informed about her progress. I would have no hesitation in recommending Louise and hope that she continues her success.