Lady Mole Catcher is also qualified to control Grey Squirrels.
About Grey Squirrels
The Eastern Grey Squirrel (Sciurus carolinensis) is native to North America but is classed as an invasive species in the UK and Europe. Introduced to Britain by Victorian landowners during the late 1800s, grey squirrels are now thought to number around 2.5 million and have been pushing native red squirrels to the brink of extinction.
Initially considered a novelty, the grey squirrel was considered to be a "sociable, easily tamed animal", according to the 1912 Manchester Guardian's country diary. By the 1920s, it became apparent that the larger, more adaptable grey squirrel was increasing in number to the detriment of the native reds. In 1932, it was made illegal to release a grey squirrel in Britain – and it still is. Currently in the UK, grey squirrels have limited legal protection and can be controlled all year round by a variety of methods including shooting and trapping.
How do you know if you have Grey Squirrels on your land?
Grey squirrels are opportunistic eaters and enjoy a varied diet. They are often seen grabbing food from bird tables, lawns and gardens. They even strip bark from trees, nibble flower buds and chew stems. Famous for burying their food, grey squirrels will dig a series of holes in the ground to store a cache and enjoy at their leisure. A destructive creature, the grey squirrel is also capable of chewing through plastic and metal – including bird feeders, pipes and agricultural equipment.
Why control Grey Squirrels?
There are a few issues to consider if you discover Grey Squirrels:
The grey squirrel causes an ongoing threat to the survival of the native red squirrel across the UK
Grey squirrels enter roof space areas in dwelling houses and will cause considerable damage which can cost several thousands of pounds to rectify
Damage due to bark stripping could lead to loss of vulnerable tree species and depletion of woodland habitats
Grey squirrels often steal eggs and chicks which adversely affects wild bird populations
Greys can also carry the squirrel pox virus which doesn't affect them but causes suffering to native reds
It is an offence under section 14 of the Wildlife and Countryside Act (1981) to introduce and release grey squirrels into the wild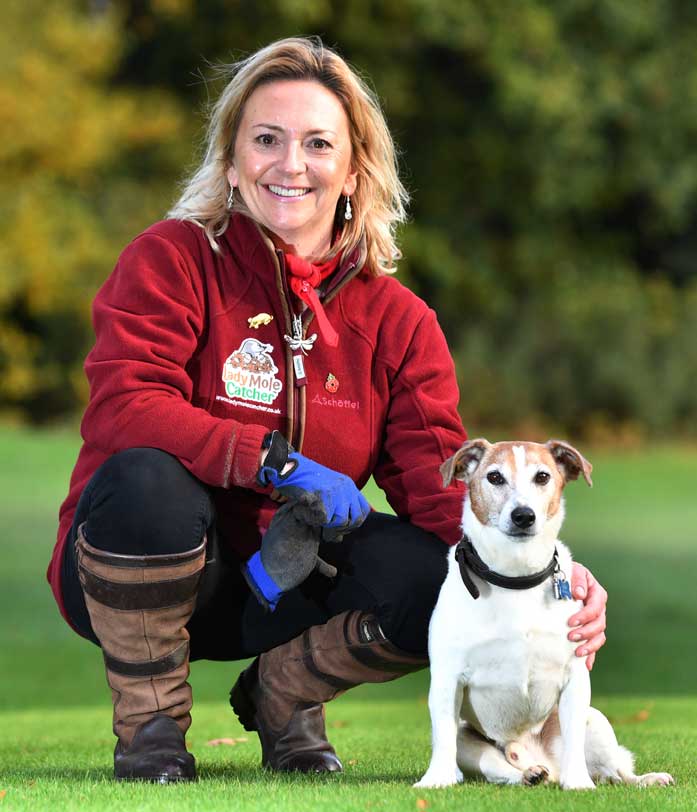 Louise Chapman BA (Hons) PGCE
Norfolk's very own Lady Mole Catcher®
Who I work with
Householders in their gardens
Farmers and Land Agents
Outdoor Leisure Facilities
Businesses
Restaurants and Pubs
Schools/Colleges
Local Authorities
If Grey Squirrels are causing problems in your area, get in touch with Louise to arrange for a site visit and no-obligation quote. Call 01603 25 99 45 or 07876 14 11 53 or email louise@ladymolecatcher.co.uk
I'd like to thank Louise for solving a Bed Bug problem swiftly. My daughter had arrived home after a school trip and brought with her some unwelcome guests - Bed Bugs! My daughter was bitten and the Doctor confirmed Bed Bugs, which he said probably hitched a ride in my daughter's luggage. Louise came the very day I 'phoned her and took control of the situation. Thank you Louise, what a relief!!
Very professional and quick results. If you have moles in your lawn, call Louise. I will always recommend you! Thank you.
Louise has helped us out on numerous occasions: excellent all round, would highly recommend.
Here at Broads Edge Marina we had a mole problem, Louise was very professional, reliable and competitive on price. Would highly recommend.
Organised for my parents property, we thought she was very efficient and a good quality of service. Will use again.
I moved into a two acre plot with over 50 mole hills. Louise came in and sorted my mole problem in a week. She was extremely professional, honest and very interesting to talk to. I would thoroughly recommend her.
Louise set 1 trap and hey presto the problem was cured within 2 days. An excellent service Louise and thank you very much. Wouldn't hesitate to recommend or use again.
I felt totally at ease with her and knew exactly how much it was going to cost me. It was exactly how she described it and was payment by results as she stated on her website. I have no problem in recommending Louise to anybody.
Amazing service; e-mailed day one, Louise was at mine the next day and within a week the little critter was caught. Thank you so much; highly recommend!
My long standing mole problem was very efficiently eradicated. Now for the first time in years I can look forward to a beautiful lawn. I would recommend lady mole catcher, good job well done at a reasonable cost.
A fantastic job done with the utmost of care and keeping me informed about her progress. I would have no hesitation in recommending Louise and hope that she continues her success.