Digging deep and catching a live mole!
May was another busy month, despite the unusual drought which was causing a lot of hard dry soil – a nightmare for a mole catcher! The moles were digging ever deeper and creating very big molehills across the region in a bid to find softer earth for tunnelling.
I created a couple of short videos with some advice on dealing with moles in your garden – one talks about sonic mole repellents and the other is a reminder to act fast and give me a call as soon as you spot your first mole hill! (Visit my Facebook or Instagram page to view).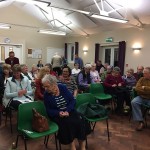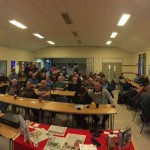 I was pleased to be invited to give a talk for the Starting Handle Club at Bawburgh Village Hall (left) and also Bergh Apton & District Society (right). They were both lively and appreciative audiences; thank you for making me (and Buddy) welcome!
I also enjoyed visits to the Naturally Norfolk event in Reepham with the Buy Local Norfolk team and Costessey Fête to help support the Norfolk Zipper Club, who raise money for Papworth Hospital NHS Foundation Trust.
Most unusual of all for the month of May was catching a live mole while I was laying traps for a customer in his Norfolk garden! You can see the full video at https://www.youtube.com/watch?v=aG44I40XROA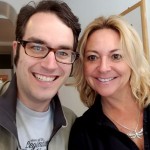 And this week, I was delighted to meet writer Steve Ellerhoff who travelled all the way from the USA to pay me a visit and learn more about moles for a book. Stay tuned for news on a publication date! Steve introduces himself in a brief video at https://www.facebook.com/ladymolecatcher/videos/2008297396060968/