Lady Mole Catcher is also qualified to deal with carpet moths. As a professional wildlife management specialist, she has the knowledge and skills to deal with infestations as well as having access to specific insecticides which are not available to the general public.
What are carpet moths?
The carpet moth (Trichophaga tapetzella) is a similar size to the clothes moth but is smaller than a common house moth, at around 5mm long with a wingspan of about 14-18mm. They tend to be light orange-brown in colour, with three distinct dots on their forewings. The carpet moth rarely flies and is often seen flitting around at floor level. Although the adult carpet moth only leads a short life, females are capable of laying up to 200 eggs, preferably in dark, undisturbed areas. Once hatched, the larvae are often found under sofas, beneath curtains and heavy furniture and are able to live for up to two years. During this time, they will happily eat away at any natural fibres, damaging your soft furnishings and leaving bald patches in carpets. They are in fact attracted to the keratin found in many natural fibres and fabrics, such as wool.
How do you know if you have carpet moths on your property?
As so many of us now live in centrally heated homes with improved insulation, the reproduction and development cycle of the carpet moth can progress much faster – an egg can develop into an adult moth within as little as 2 months in a warm environment. If you notice bare patches on rugs and carpets, especially in rooms or areas which are rarely used, this could be a sign of a carpet moth infestation. You may also see larval cases deposited around the edges of a room or some adult moths hopping around at floor level.
Why control Carpet Moths?
There are a few issues to consider if you discover an infestation:
Not only is carpet moth damage expensive to rectify in carpets and furnishings but if left untreated, an infestation can spread to attics, wardrobes and other storage areas
Clothing such as wool, cashmere, silk, cotton, fur and leather are all at risk from being devoured by carpet moths
Although regular vacuuming can help to remove carpet moth eggs before they hatch, the larvae are much more difficult to eradicate
If you run a textiles or furnishings business, carpet moths can cause a lot of damage to stock or equipment
Carpet moths in a museum could prove disastrous for historical artefacts such as tapestries or clothing (especially if they're irreplaceable!)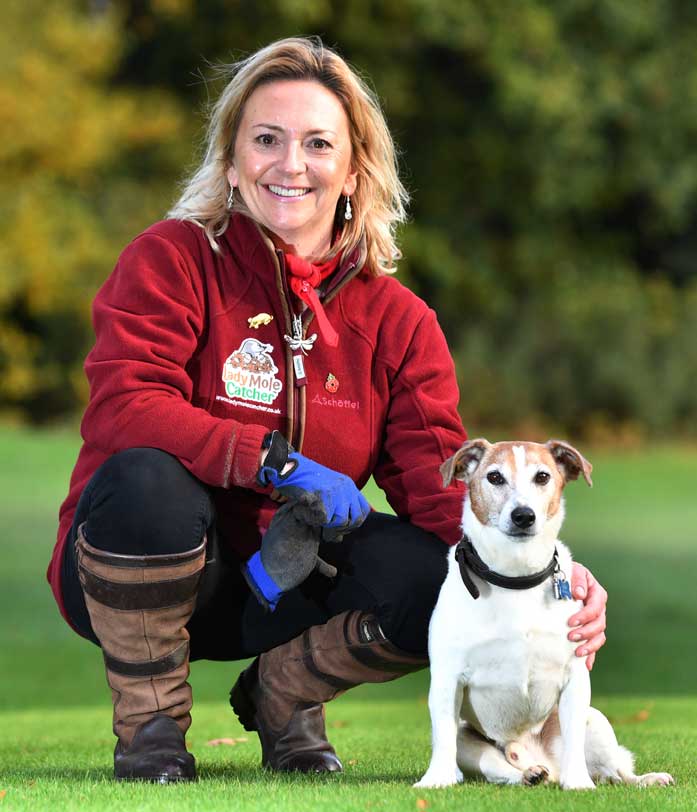 Louise Chapman BA (Hons) PGCE
Norfolk's very own Lady Mole Catcher®
Who I work with
Householders in their gardens
Farmers and Land Agents
Outdoor Leisure Facilities
Businesses
Restaurants and Pubs
Schools/Colleges
Local Authorities
If Carpet Moths are causing problems for you, get in touch with Louise to arrange for a site visit and no-obligation quote for treatment of the infestation. Call 01603 25 99 45 or 07876 14 11 53 or email louise@ladymolecatcher.co.uk
I'd like to thank Louise for solving a Bed Bug problem swiftly. My daughter had arrived home after a school trip and brought with her some unwelcome guests - Bed Bugs! My daughter was bitten and the Doctor confirmed Bed Bugs, which he said probably hitched a ride in my daughter's luggage. Louise came the very day I 'phoned her and took control of the situation. Thank you Louise, what a relief!!
Very professional and quick results. If you have moles in your lawn, call Louise. I will always recommend you! Thank you.
Louise has helped us out on numerous occasions: excellent all round, would highly recommend.
Here at Broads Edge Marina we had a mole problem, Louise was very professional, reliable and competitive on price. Would highly recommend.
Organised for my parents property, we thought she was very efficient and a good quality of service. Will use again.
I moved into a two acre plot with over 50 mole hills. Louise came in and sorted my mole problem in a week. She was extremely professional, honest and very interesting to talk to. I would thoroughly recommend her.
Louise set 1 trap and hey presto the problem was cured within 2 days. An excellent service Louise and thank you very much. Wouldn't hesitate to recommend or use again.
I felt totally at ease with her and knew exactly how much it was going to cost me. It was exactly how she described it and was payment by results as she stated on her website. I have no problem in recommending Louise to anybody.
Amazing service; e-mailed day one, Louise was at mine the next day and within a week the little critter was caught. Thank you so much; highly recommend!
My long standing mole problem was very efficiently eradicated. Now for the first time in years I can look forward to a beautiful lawn. I would recommend lady mole catcher, good job well done at a reasonable cost.
A fantastic job done with the utmost of care and keeping me informed about her progress. I would have no hesitation in recommending Louise and hope that she continues her success.